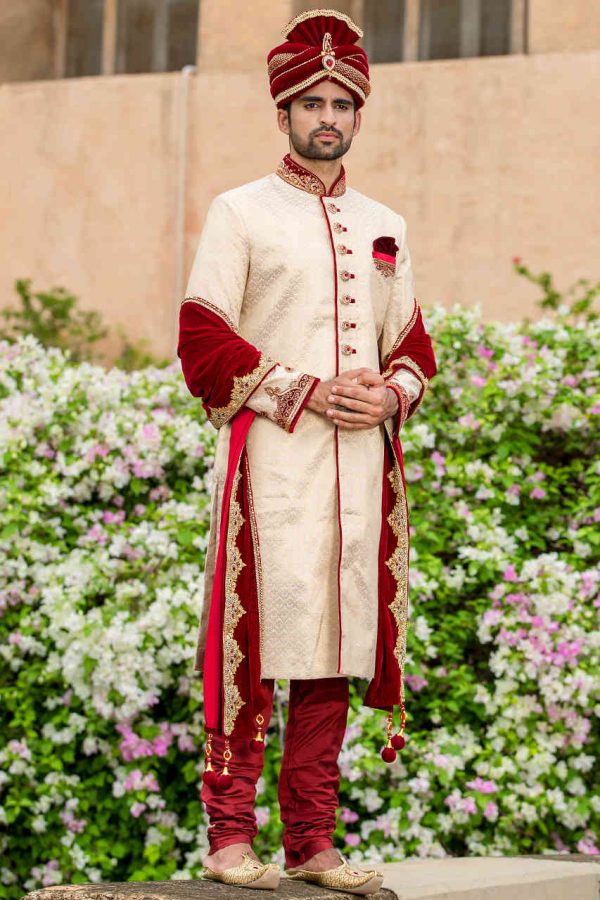 Rs.

11,999.00
Be a dapper groom with this stellar ensemble in beige and maroon. Colour, Material & Work: The beige sherwani top is prepared on a rich jacquard material with an intricate pattern in gold fabricated through it`s entire length. The sleeve ends and the mandarin collar neckline is highlighted with embellishments and embroidery with maroon detailing. Fancy pebble sized buttons complementing the top completes the front look while the back is kept simple. This set includes a glazed plain maroon churidar bottom. This timeless creation will gravitate all attention to you on your special day.
Add to cart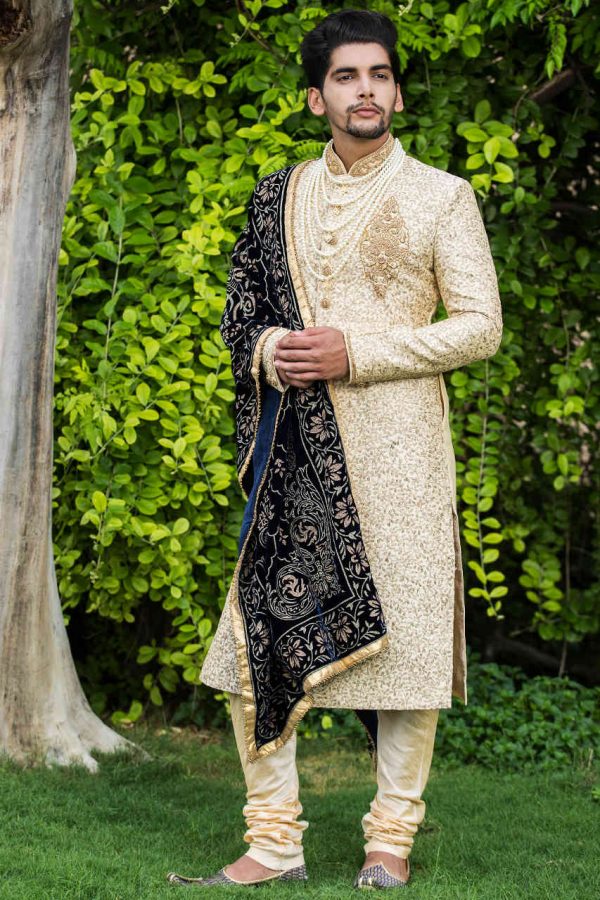 Rs.

11,999.00
Garb yourself in a stunning masterpiece by Manyavar. This sherwani not only accentuates your personal style quotient but also fits into everything conventional and heirloom.Colour, Material & Work: This sherwani is meticulously handcrafted on a cotton silk material in beige colour. It has rich thread and zari work done all across the sherwani making it grand. The copper-gold zari work is detailed, intricate and continuous. It has a mandarin collar which is highlighted with contrasting embroidery in light gold. A similar large embroidered motif is prepared on the front-left side of the sherwani making the whole piece gaudy. It has contrasting embellished pebble sized buttons. This ensemble includes a shiny churidar bottom in the same shade of biscuit and is exclusive of jootis, safa and a dupatta.
Add to cart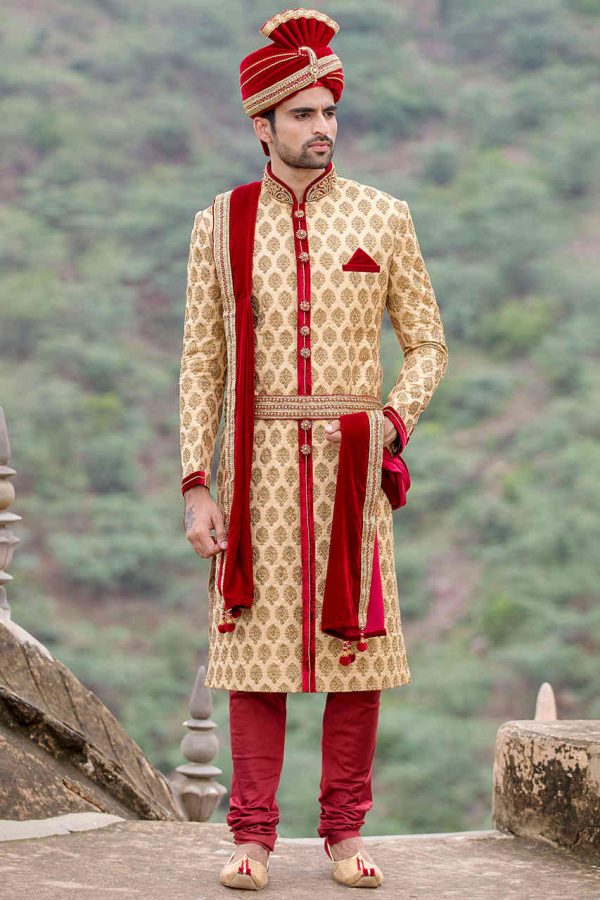 Rs.

20,999.00
A fine piece in an evergreen shade of fawn to satiate your style quest. A dressy attire befitting Indian fashion culture on point. Colour, Material & Work: A luxurious piece handcrafted by Manyawar on a rich brocade base.It is self-designed with a continuous pattern of mid-sized bootas. It has fine thread work along with being embellished with stone and bead work.  The mandarin collar is embroidered with maroon highlighting which is followed on the sleeve ends too. The buttons are pebble sized and are made in a contrasting shade of maroon with bead work on them. It has a straight hemline running down it`s length with a thick maroon piping. This sherwani top comes with a maroon churidar bottom and is exclusive of jootis, dupatta and a safa. This ensemble follows the traditional colour route but heads towards a stunning evergreen look.
Add to cart