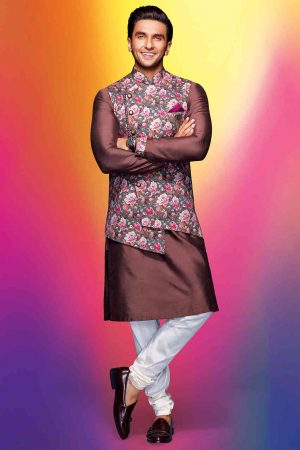 Rs.

7,999.00
Contrast is at the heart of this design. Proper use of natural colours in compliment and contrast takes anything close to nature. Material, colour and work - The blended silk brown kurta provides a rustic touch to the look. This is contrasted with the floral design of the jacket. The straight hemline of the kurta is perfectly contrasted to the asymmetric hemline of the jacket. The jacket has a cut design with bronze buttons that blends with the outfit. Adding continuity to the combination is the cuff of the kurta that is made from the same fabric as the jacket.
Add to cart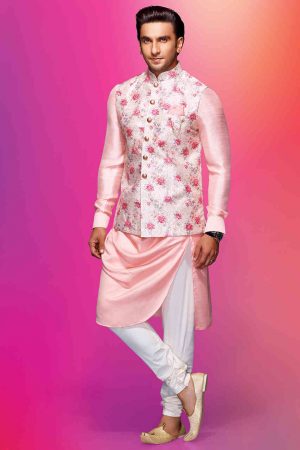 Rs.

7,999.00
Pink depicts softness and romanticism. This combination draws inspiration from floral designs. Material, colour and work - To add to softness is the blended silk fabric and floral art on the jacket. Perfectly chosen golden buttons provide a royal touch and a Mandarin collar adds to a sense of class suitable for any occasion. An asymmetric slit on the left helps adjust the below knee length kurta for different postures. The combination of a pink kurta, a cream lower and a floral designed, machine embroidered white jacket very subtly blends royalty with trendiness.
Add to cart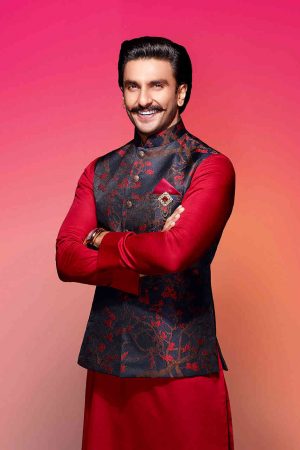 Rs.

7,999.00
Do you have a wedding invitation and you are confused what to wear? Manyavar gives you the solution! Colour, Material & work - Go for the royal red kurta with the blue jacket. The jacket goes complimentary with the red kurta. The red colour makes it more bright and elegant. This peice is absolutely perfect for the wedding season.
Add to cart